International Approvals
Alpha Aviation Group stands as one of the most prestigious training organisations in the Middle East & Asia Pacific region. We hold various internationally recognised approvals as an Approved Training Organization (ATO) and/or Type Rating Organization (TRTO).
Our expertise and competencies has decorated us with accreditation from the Civil Aviation Authority of the Philippines (CAAP), the Civil Aviation Administration of Vietnam (CAAV) and the General Civil Aviation Authority (GCAA) of UAE. Whilst also being able to offer courses under the Indian Directorate General of Civil Aviation. 
Here are some of the qualities that have made us into one of the most sought after flight academies:
---
Airbus A320 Simulator (EASA)
AAG is uniquely equipped to provide world class pilot training from zero hours to fully qualified First Officer. We operate and maintain several flight training simulation devices including our European Aviation Safety Agency (EASA) approved Level D Full Flight Airbus A320 Simulator.
The simulator is the only simulator in the Philippines approved by European (EASA), Philippines (CAAP) and Vietnamese (CAAV) aviation authorities.
AAG regularly provide training to airlines in the region, which demonstrates our capability to deliver training to the highest standards in a professional and affordable manner.
With histories spanning the last 25 years in simulator maintenance, manufacturing, installation, and update services, our technical staff are ready to insure that the synthetic portions of your training are first class and trouble free.
---
Airline Recognition
Over the past decade, AAG has nurtured working relationships with some of the world's most prestigious low cost and legacy carriers worldwide, including Philippine Airlines, Cebu Pacific, Air Asia, Zest Air, Vietjet, SriLankan Airlines, Mihin Lanka and Air Arabia.
A number of AAG's cadets are now working in these respected airlines.
---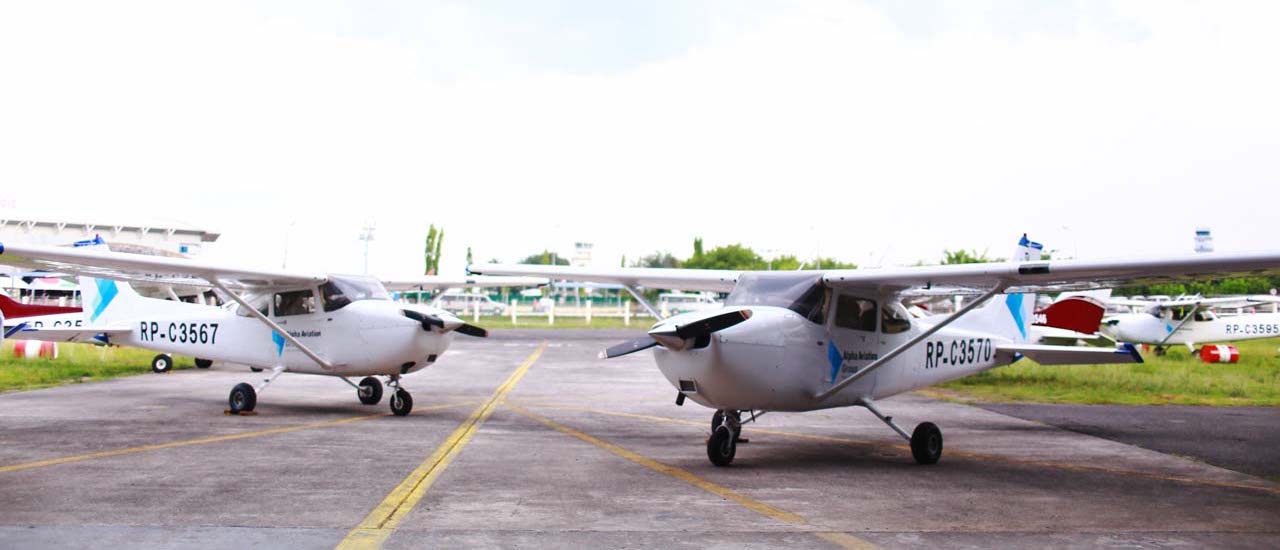 Modern Training Fleet of Cessna 172
One of the advantages of training with AAG is our very own flight line. Located at the Clark International Airport, our facilities include two parallel 3,200 meter runways, a full runway with approach lightings, instrument lighting system, VHF omni-directional range and distance measuring equipment (ILS/VOR/DME) approach aids and a full range of Air Traffic Control.
Unlike other aviation schools that rent space from national airports, our cadets can take full advantage of the runway, master the competencies needed to become a qualified pilot and complete their training without any delays.
---
Training Expertise
Our faculty and administration possesses unparalleled training expertise and track record. Informed by decades of industry and military experience, each instructor provides a comprehensive system of knowledge and insight sourced from experience gained during their careers in the Air Force and in various domestic and international airlines.
At the same time, our instructors have a close one-on-one relationship with the cadets in order to better monitor their progress, and to ensure that each trainee has a mentor during their time at AAG and even after.
---
Student Culture
Our campus is home to cadets who are eager to pursue a career in respected airlines and who want to make a significant contribution to the growing aviation industry. One of the most appealing aspects of Alpha is the culture of collaboration that exists among the cadets of this highly-esteemed institution.
While each cadet must take responsibility for her or his success at AAG, we are proud to have built a student culture where each pilot cadet takes it upon themselves to share valuable information and firsthand accounts of their own training, creating an environment of open learning that guarantees each and every student success in their training and in their future career as airline pilots and aviation industry leaders.
---
Airline Environment
Our training grounds situate our administrative offices, classrooms, library, training facilities and the simulator center.
It is an idyllic and conducive setting that gives cadets the ideal conditions to complete their objectives and exceed their instructors' expectations.
The all English speaking campus creates an airline oriented environment to ensure our cadets are well prepared for life as a commercial pilot.