Supporting an industry on a rebound by training and producing 'airline-ready' pilots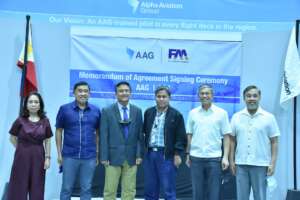 Clark Freeport Zone, Pampanga- It won't be long before we see the aviation industry rise up and get back on its feet once again. In a press release published by the International Air Transport Association (IATA), global air passenger numbers are expected to exceed pre-pandemic levels in 2024 (https://www.iata.org/en/pressroom/2022- releases/2022-03-01-01/). And if there is one critical aspect to focus on now that we navigate the path towards recovery, that is to make aviation professionals, particularly aviators, ready to support and sustain the industry's eventual recovery.
Organizations who believe in the resiliency of the aviation industry and are ready to support the industry's recovery understand that collaboration and leveraging on each other's strength is the key to speeding up and sustaining its recovery. On 08 July 2022, two (2) leading ATOs in the Philippines- AAG and FAA, inked a partnership agreement for the First Officer Transition (FOT) program– a full Airbus A320 Type Rating program with MCC and JOT designed to equip CPL-IR license holders with all the required elements to qualify for a rating on an Airbus A320. The program is pioneered by AAG and is part of the organization's< flagship programmes. "We are very much delighted that FAA is teaming up with us in producing 'airline ready' pilots. This MOA is very timely especially now that we all anticipate the industry's recovery. I am certain that this initiative will play a key role in enhancing and strengthening the aviation training in the country," said Capt. Vicente Casibang, AAG's Accountable Manager and the partnership signatory for AAG.
FAA also expressed its appreciation and excitement on the partnership. In his remarks, FAA's Chief Operating Officer (COO)- MGen. Restituto Padilla Jr. AFP (Ret) said, "I look forward to seeing more of these- collaborations, partnerships, and alliances happening within the industry in the years to come. This is a golden opportunity to take part in the recovery of the aviation industry. Our team is excited to work hand-in-hand with the AAG team in producing the kind of pilots the industry needs during these exciting times. God willing, there will be more of these in the near future, as we move onward the path towards recovery, and as we help our pilot trainees fulfill their passion and dreams. Maraming salamat sa pagkakataon, and cheers to this partnership!" Also representing FAA were Capt. Jesus D. Madlangbayan, Accountable Manager and the signatory on behalf of FAA, and Mr. Raoul S. Perez, Consultant- PTC Holdings, Inc, who led the drafting and the finalization of the MOA.
The ceremonial MOA signing was concluded by AAG's Regional Director for Asia Pacific, Mr. Cristopher Magdangal. In his closing speech, he thanked FAA for their confidence and trust in AAG and conveyed his optimism on the partnership between AAG and FAA. He said, "this is a very welcome development as we all move towards the recovery of the industry. As training institutions, we play an important role in triggering growth, not just on the aspect of pilot training, but in all facets of the industry. Since I started working in the aviation industry, consolidation has been one of my advocacies. And that could only happen if there is trust among organizations. So, to our partners in FAA, thank you for the trust. I am optimistic that this is just the beginning of the many more opportunities we can explore together. So, with the best that we can, let's work together- for our organizations, for our trainees, for the bigger community, and the entire aviation industry."