Multi-Engine Rating (MER) Course
AAG International Center for Aviation Training (AICAT) is a subsidiary of Alpha Aviation Group, The Philippines' premier pilot training solutions provider. Headquartered in San Fernando, La Union, AICAT handles the core flying component of the Group's flagship and stand-alone basic flight training courses. Its flight training capacity consists of 30+ Cessna 172s and one (1) Tecnam P2006T – the largest, youngest, safest, most advanced, highly efficient core flying trainer fleet in the Philippines. The rapid expansion of AICAT's trainer fleet led to the establishment of its own Approved Maintenance Organization (AMO), delivering in-house line and base maintenance services.
AICAT is an Approved Training Organization (ATO) certified by CAAP and is operating in five (5) training hubs for greater operational efficiency and training flexibility. Its flight training bases in Laog (RPLI), Iba, Zambales (RPUI), Subic, Zambales (RPLB) and San Fernando, La Union (RPUS), with its simulator training base in Clar, Pampanga, provide trainees with world-class flight training experience, one that is designed to train and develop world-class pilots and future leaders for the aviation industry.
AICAT offers the Multi-Engine Rating (MER) Course designed to enable aspiring individuals to qualify for a CPL with Instrument rating issued by the Civil Aviation Authority of the Philippines (CAAP).
AICAT is the first ATO in the Philippines to pioneer a course design which incorporates the full adoption and implementation of the CBTA (Competency Based Training and Assessment) philosophy across all training modules and phases. This innovative "outcome-focused" training approach aims to develop and nurture among trainees the necessary pilot competencies to be safe, highly-resilient, reliable, and effective cockpit managers when flying an aircraft. This is a departure from the "qualification-based" traditional training approach designed to enable trainees to demonstrate the minimum skill, knowledge and experience levels just to meet the qualification requirements prescribed by civil aviation authorities. The CBTA training framework enables learning and innovation rather than just passing a test.
The training knowledge fundamentals are anchored on the internationally recognized ATPL standards and best practices. This ensures that trainees gain an in-depth understanding and appreciation of the different concepts and systems in aviation. The robust learning structure that an ATPL-based program presents, ensure that trainees gain a wider perspective in the profession and the industry as a whole.
The simulated sessions are delivered using one of the world's most technologically-advanced fixed-based simulator available in the market – the Alsim AL172 MKII FNPT II. This flight simulator training device – one of the seven (7) in AAG's fleet at the Simulator Training Center in Clark Freeport Zone – represents a Cessna 172SP Skyhawk NAV III aircraft equipped with the Germin G1000® NXi avionics suite, meeting the requirement as both FAA FTD level 5 and EASA FNPT II for maximum credit hours. It offers a close-to-reality experience which can simulate conditions and scenarios that are beyond the envelop of most generic simulators of its class.
Successful completion of the program provides trainees not just the capabilities to satisfy the minimum requirements to pass regulatory check but more importantly, the necessary pilot skills and competencies to safely and effectively command a commercial aircraft under IFR rules. The training program runs for approximately nine(9) months with margin for performance, weather and regulatory document processing.
Application and Admission
Resume with breakdown of logged flight time and type rating
Pilot License/s
Last 4 Pages of Pilot Logbook
Radio License
Class 1 Medical Certificate
At Least 4 ELP Certificate
Flight Training Certificates
Passport
Two Pieces 2″x2″ ID Photos
Copy of Medical Insurance
Application Form
Additional requirements for foreign students applicants are:
National Bureau of Investigation (NBI) clearance
Special Study Permit (SSP) from Bureau of Immigration (BI)
Pursue a career in aviation today through AAG's Study Now, Pay Later program and set yourself up for a successful, fulfilling, and rewarding profession. Fast track your path by taking the Airline Pilot Program, or prepare yourself for the rigorous process of applying for a First Officer position by taking the First Officer Transition Program. For more information about these programs, get in touch with AAG through the following channels:
AAG is located at N1087 Jose Abad Santos Ave, Clark Freeport Angeles, Pampanga 2023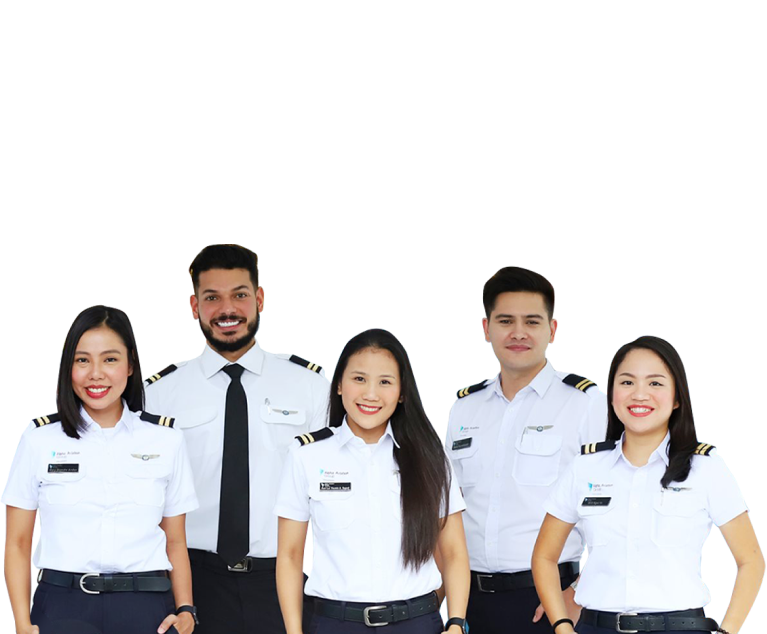 We Do Not Just Train Pilots.
We Develop Future Leaders for the Aviation Industry.