OVERVIEW
Alpha Aviation Group (AAG) is a leading provider of aviation training solutions, working with airlines across the globe offering a wide range of services, but specializes in cadet assessment and selection, type ratings and flagship ab initio cadet programs, all of which are tailored and optimized to the operational needs of its partner airlines.
The domestic and South East Asia market is served from AAG's base in the Philippines where they operate an Approved Training Organization (ATO) and a certified Type Rating Training Organization (TRTO) for the Airbus A320.
It also has the only EASA certified Level D Airbus A320 Full Flight Simulator in its Philippines platform.
The Middle East Region is served by Alpha Aviation Academy UAE, a joint venture with Air Arabia in Sharjah UAE and the biggest MPL provider in the Region.
AAG has played a major part in pioneering the Multi- crew Pilot License (MPL) in the Philippines and UAE, where it is the largest provider of First Officers via the MPL route.
AAG has a proven track record of entering new markets and developing local relationships with regulators and airlines – often having to cross-certify between countries.
---
EASA approved Level D Airbus A320 Simulator
Currently housing, maintaining, and operating several flight simulation devices including a European Aviation Safety Agency (EASA) approved Level D Full Flight Simulator, AAG is uniquely equipped to provide world class pilot training from zero hours to fully qualified First Officer. 
Our simulator technical staff are more than proficient in Motion/Control Systems, Visual Systems, Computer Systems, Hardware troubleshooting/repair, and Management Systems. 
With histories spanning the last 25 years in simulator maintenance, manufacturing, installation, and update services, our technical staff are ready to insure that the synthetic portions of your training are first class and trouble free.
---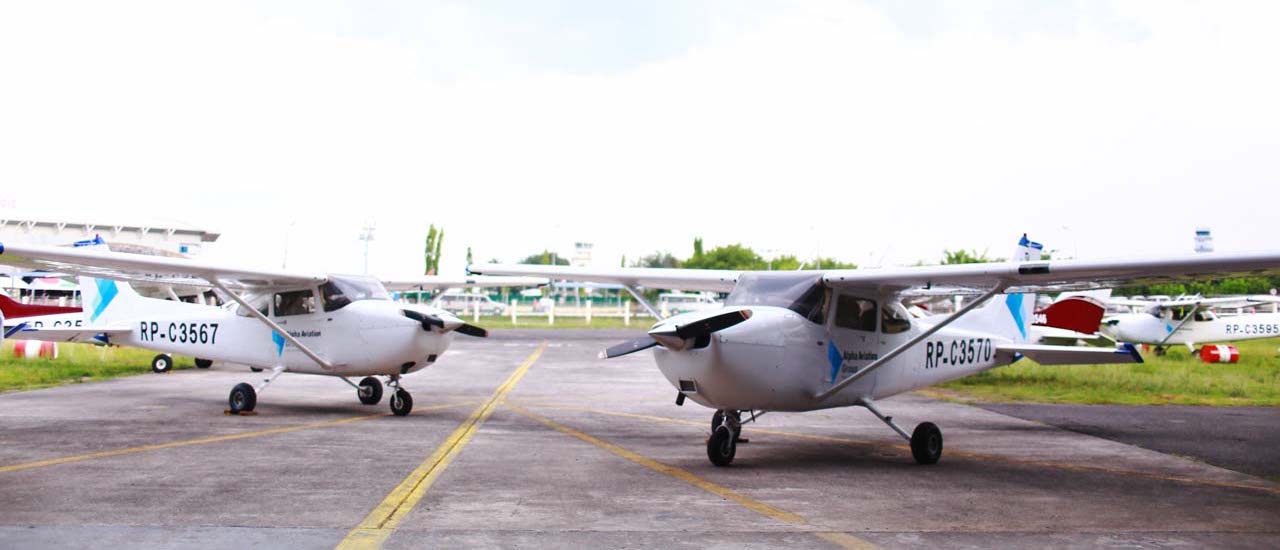 Modern Training Fleet of Cessna 172 (Glass Cockpit)
AAG deliver superior training by using one of the most modern, safe and world recognized aircraft – the Cessna 172 SP, to which it is most often referred, the Cessna G1000.
The G1000 has a proven safety record and includes airbags as a factory standard.  As a result of Cessna's safety and reliability, the Cessna G1000 aircraft has over 1 million flight hours world wide.
AAG has chosen the G1000, because of its safety and reliability record. The G1000 includes dual 10.4 inch, high resolution liquid crystal displays (GDU's), displaying a moving map terrain, navigational and flight instrument information, it is the perfect aircraft for a trainee pilot.
However, we also chose this aircraft because the G1000 glass cockpit is a natural and easy transitional environment to the Airbus A320 glass cockpit environment.  As a result, when our cadets begin their training in the Airbus A320 simulator, they spend less time having to familiarize themselves with a glass cockpit environment and can spend more time concentrating on learning how to fly the Airbus A320.
---
Locations
The Alpha Aviation Group is strategically located in the aviation industry's key growth markets:
---
PHILIPPINES
Located in the Clark Freeport Zone, AAG Philippines (AAGP) is an Approved Training Organization (ATO) and a certified Type Rating Training Organization (TRTO) that continuously serves the unique demands of the domestic and South-east Asian market.
Clark is the home of the AAG's European Aviation Safety Agency (EASA) approved Level D Airbus A320 simulator. AAGP holds certifications and accreditation from the Civil Aviation Authority of the Philippines (CAAP) and Civil Aviation Administration of Vietnam (CAAV), this is also where AAG deliver Type Ratings in accordance with the Indian DGCA regulations.
Address: 1092 Jose Abad Santos Ave, Clark Freeport Zone, Pampanga, Philippines
Telephone: +63 (0) 45 599 7435/36
Email: ph.info@aag.aero
Business hours: 08:30 am – 17:30 pm [BST+7]
---
---
UNITED ARAB EMIRATES
Alpha Aviation Academy in Sharjah, UAE is a product of the institutional partnership between AAG and Air Arabia, the largest low-cost career airline in the Middle East and North Africa. Certified as an Approved Training Organization (ATO) and recognized by both the International Civil Aviation Organization (ICAO) and the General Civil Aviation Authority (GCAA) in the UAE, the academy specializes in the Multi-Crew Pilot License training program. They are also the sole provider of First Officers to Air Arabia.
Address: PO BOX 71168, Sharjah International Airport, Sharjah, UAE.
Telephone: +971 6 557 4243 (Ext. 114)
Email: mpl@aag.aero
Business hours: 09:00 am – 17:30 pm [GMT +4
---
---
UNITED KINGDOM
AAG's 'Airline Pilot Selection' hub is based in Central London, where the team manages and maintains its relationships with certain airlines across the globe.

Email: partnerships@aag.aero
Business hours: 09:00am – 18:00pm [GMT]